Culture and Leisure
Chocolate: flavors and textures. A world of pleasure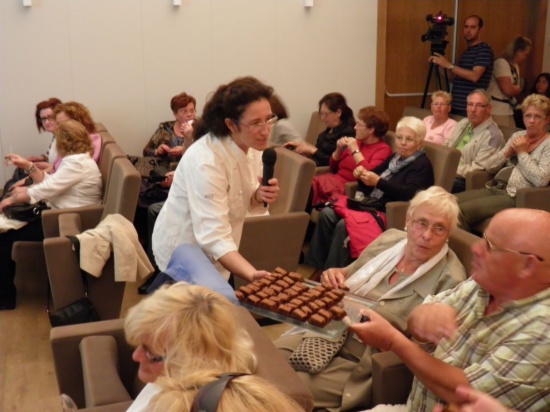 As part of the activities scheduled to mark the 7th Gourmet Week of the Ñora & Prawn of Guardamar, the Marjal Group held a special workshop at their meeting hall on the 7th of April, with a conference dedicated to the world of chocolate. Lola Velez, head of the La Sirena of Petrer restaurant's pastry chef, gave a lecture titled Chocolate: flavors and textures. A world of pleasure, that surprised the taste buds many people who attended the conference, including members of Marjal Club Exclusive.
The workshop began at 18:30 with a didactic explanation of the cocoa tree, its origins and the influence of chocolate in different fields of culture such as film, literature, fashion. The conference ended with a chocolate tasting where the five five senses were put to the service of pleasure: a lollipop candy, chocolate mousse with Maldon salt ... The senses were the idle way to address the subject of textures, the different densities in the working and mixing with other products such as chocolate nuts, fruits, spices, eggs, flour, cream, etc. and even savoury products such as meat or fish.
At the end of the workshop, at 20:00 h, participants were able to chat about the conference and work shop over a bottle of wine that offered by the Marjal Groupo on their premises.
Related pages