Education
Marjal Healthy Chair of the UA, a pioneering Chair in integrated studies on healthy building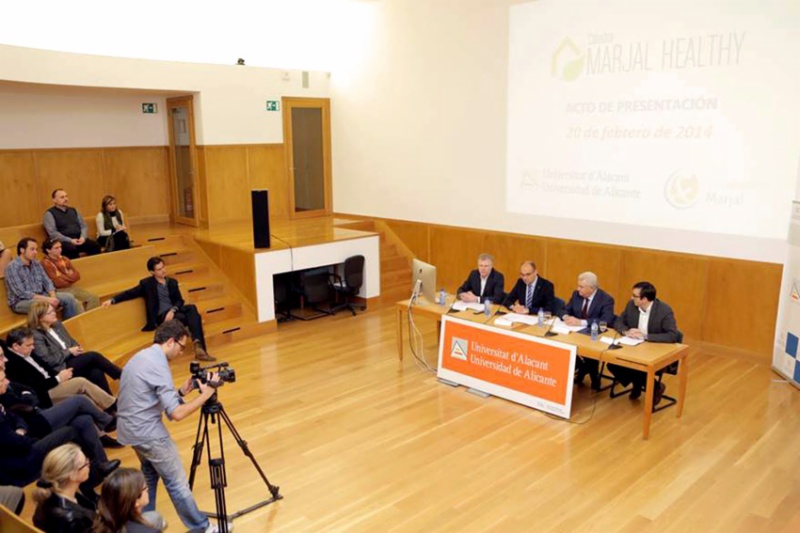 Alicante, 20th February 2014. - This morning the University of Alicante and the Marjal Foundation presented the MARJAL HEALTHY Chair, considered to be the first one of the ten in the Alicante teaching institution with international renown. The Chair comes from the Marjal Sustainable Building Awards– turned later into International Healthy Building Awards- and incorporates new disciplines of study in different areas such as environments, habits and technological applications, all of them always focused on healthy setting. This is why the Marjal Healthy Chair is at the Forefront of integrated studies on healthy building. The aim of this Chair, such as the President of the Marjal Foundation pointed out during his speech, "is to be a reflection, discussion and research core in the different factors of the healthy life, mainly those related to the needs and concerns of the international residents in Spain".
The event was presided by the University of Alicante Vice-chancellor, Manuel Palomar, and counted on the presence and participation of Gerard Kuiper, the Architecture Project Manager in the Hogeschool van Amsterdam, institution which will also take part in the Chair through the participation of the students in the awards mentioned above. Kuiper has reminded that his working relationship with the University of Alicante goes back to 2004 with the joint participation in the Red Alfa Aurora, an international exchange programme in which both Universities participated with other five coming from Europe and Latin America. The Dutch manager has stressed the great importance of this new Chair that settles upon the common basis for both Universities and for the Foundation which supports it "focused on the principles of sustainability, quality and professional experience".
The UA Vice-chancellor outlined that such alliances "strengthen the links between Universities and companies and favour the mutual transfer of knowledge and experiences as well". The President of the Marjal Foundation, Francisco Gómez Andreu, has explained that this Chair will be mainly based on teaching and research, however, he also insisted on the need of introducing wider factors in order to encourage the possibilities of a close cooperation between the ones who produce knowledge and those who finally apply it in favour of a better quality of users' life.
In this event, professor of the Architecture Department of the UA, Antonio Galiano, was officially introduced as the head of the Chair. Galiano has conducted a retrospective study on the eight-year relationship between the teaching institution and the Marjal Foundation through the Healthy Building Awards, in which around 400 students of three different Universities took part. There is no doubt in this respect that these awards have enjoyed a high level of participation and due to the prestige gained among the students they have become one of the most consolidated and outstanding projects in the Chair.