Development Cooperation
A Successful food drive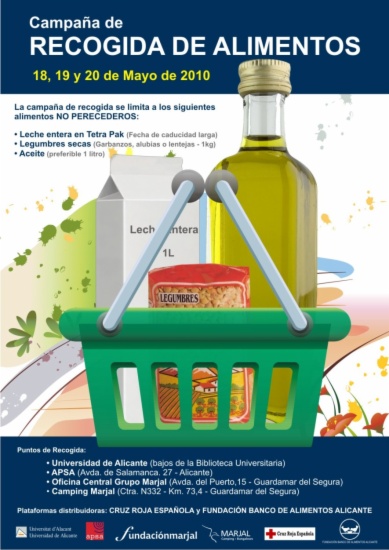 With the aim at collecting basic foodstuffs, these five entities cooperated in the food drive that took place on the 18,19 and 20 May 2010 at various locations throughout the province of Alicante. Specifically, four different spots were chosen from which the food drive was coordinated during the three day campaign - the UA university library, both APSA and Grupo Marjal's official headquarters, and Camping Marjal, in the town of Guardamar del Segura.
Only non-perishable goods were accepted, such as oil, UHT milk, pulses (for example, chickpeas, beans, lentils), etc. In shorts, any item of basic foodstuff with a long-term shelf life was more than welcome and much appreciated.
The foodstuffs colected were all donated to the Red Cross and the Alicante Food Bank Foundation for their subsequent distribution among people in need. Both institutions acted as a distribution platform and were in charge of dividing up the collected food. Particularly, in the town of Guardamar,, were the headquarters of Grupo Marjal are located, the donation were send to Caritasthrough the parish priest.
From Fundación Marjal, we would like to thank all those who have done their bit for this initiative and, therefore, have declared their support for people in need of a helping hand at this difficult time.
"A good deed is never lost" François Fénelon
Related pages