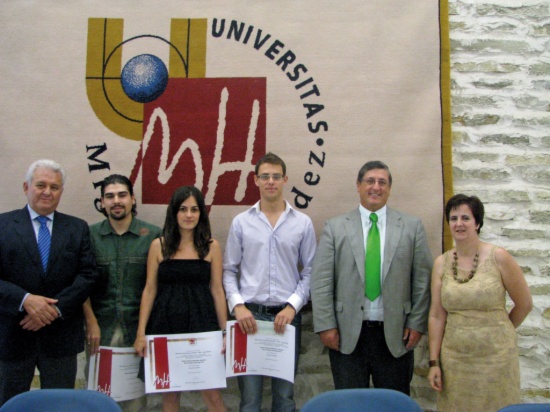 Fundación Marjal and the Miguel Hernández University present the awards of the competition Ideas for sustainable development in Europe. The projects Placing Overhead Power Lines Underground and Sustainable Adventure won in their respective categories.
On 28 June Fundación Marjal and the Universidad Miguel Hernández of Elche (UMH) celebrated the awards ceremony of the competition Ideas for sustainable development in Europe. This contest has been established with the aim of promoting good environmental practices at a European level.
On this occasion, the jury chose the project entitled Placing Overhead Power Lines Underground, which was submitted by Roberto Pascual, as the winner in the Best Idea on Preservation and Improvement of the Environment and Biodiversity category.
The prize in the Best Idea to Promote Environmental Management and Government, Corporate and Town Sustainability category was presented to undergraduates Enrique Amérigo y Davinia Martínez for their project called Sustainable Adventure.
The members of the jury particularly assessed aspects such as innovation, quality and project applicability at a European level. Moreover, the examining board also took into account the projects' capability to put forward comprehensive and effective solutions to current environmental problems. Tens of Environmental Science graduates from the UMH and other academic institutions submitted their projects to be assessed and shortlisted by the jury.
Now that the jury's decision has been announced, Fundación Marjal will be able to study the feasibility of the winning projects to be developed within the areas in which the foundation operates. The competition has been designed in order to promote research in areas such as waste recycling, environmental studies, environmental management systems, resource efficiency and waste recovery. Besides this, it is aimed at exploring in depth other areas such as conservation of the environment and biodiversity, environmental education as well as land and urban planning, among others.
Noticias relacionadas