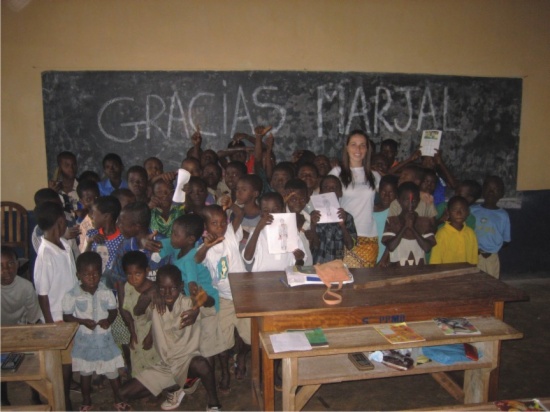 The humanitarian mission was established in Dzolo, a small village located in Togo and the Fundación Marjal donated a sum of money with which school supplies and uniforms were bought for the children of this African villages.
Nearly 1000 pens, 800 notebooks and 270 metres of fabric to make school uniforms were handed out to the authorities of the village school, who strive to exercise their pupils' right to education. Besides this, other initiatives were carried out- the restoratioon of the school and its surroundings as well as the improvement of the village health centre. These initiatives were undertaken bya a group of volunteers from the ASF Togo association.
The volunteers were divided into three groups. The first one was in charge of giving Maths and French lessons, among other subjects. The second group were at the helm of a project to restore the village school. They painted it and improved its access by building a staircase. Moreover a children's playground was built and the schools surroundings were reforested. Finally, the third group was in control of carrying out medical tests to detect malaria. In addition, an AIDS awareness and prevention campaign was launched and condoms were handed out to the villagers in order to prevent the transmission of the virus.
The main goal of this sterling work to foster the development of Dzolo and improve the quality of life of its inhabitants. This is the reason why this initiative focused on the fields of education and halth. Education is, undoubtedly, a key factor for young people to obtain knowledge and thus more opportunities to integrate in society and prosper.

Noticias relacionadas